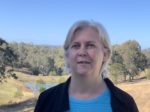 What inspired you to write a book?
Grief and wanting to share the story about the loss of my first born baby. Even though I started writing this book years ago. I have not finished it but I have published two other books.
Who is your favourite author and why?
I don't have a favourite author.
What is your favourite food?
I have a sweet tooth so I would have to say chocolate.
What do you like to do when you are not writing?
When I am not writing I work as a carer, which I really enjoy. I also like to spend time with the family.
As a child, what did you want to do when you grew up?
Don't remember having my heart set on anything but after doing work experience at the age of 15 at Castle Hill RSL I decided I wanted to become a Chef.
What do you think makes a good story?
True stories with spiritual overtones.
7. What was one of the most surprising things you learned from writing your book?
I was surprised with my ability to write poetry.
When did you realise you wanted to be a writer?
A few years after my baby died I wanted to write my story but didn't see myself as a writer.
How long does it take you write a book?
Depends on what I am working on. My Poetic Journey and Hidden Treasures took approximately one year to write. The book I am working on now is going to take a lot longer.
Can you share with us what your next book will be about?
My next book is about my parents. I am writing it with my mother from her perspective. My dad was an incomplete quadriplegic and Mum was his full time carer. They travelled a lot around Australia. First in a Combi with the wheelchair tied to the back, then in a Motorhome. They had some great adventures in between hospital visits and Dad's surgeries.
Hope you enjoyed learning more about Sonia Young.
Would like to be on our list of authors? Become a member today and reap the benefits of being a part of the Author Academy Bookstore!
For more information, please click here.