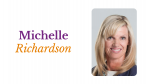 ---
My story is very special, born a triplet and hid behind my mother's skirt, and didn't speak till I was 5 years old, bullied at school, reading, writing, speaking the English word was not part of my world. I didn't believe I would ever have a normal life, and boy I sure don't now…
My diagnose was dyslexia and Dyspraxia was a brain-based type of learning disability that specifically impairs the ability to read which made my speech messages from the brain to the month not heard and writing incomprehensible. With the world saying no to me, against all odds I followed my dreams, I published my book the first of 10 children's series Ricki the robot, A teacher in Holistic health, Personal Trainer, Radio Presenter - internet radio, Almost Blue Radio show, International guest speaker for freedom of speech, a mother of 2 beautiful grown kids, and a teaching health and healing facility to build and grow for everyone to live in peace and strength. Dream Big ….
---
Books by Michelle Richardson
---
Ricki lands on earth just in time to fix the Earth's problems. But he has many problems of his own already. A confused Ricki meets a very worried Felicity, whose only wish is to find a friend to love. Even though Ricki is too unwell to have a talk, how can he refuse to be friends with Felicity? But he has to get well, because the world needs his magic. Urgently
---
Hope you enjoyed learning more about our author of the month!
Would like to be on our list of authors? Become a member today and reap the benefits of being a part of the Author Academy Bookstore!
For more information, please click here.