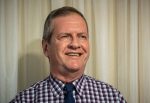 What inspired you to write a book?
I'm pretty certain that, inspiration to write books initialised during the reading of such titles as, "The First & Second Chronicles of Thomas Covenant" – Author: Stephen Donaldson and also reading "The Hobbit" and "The Lord of the Rings" – J. R. R. Tolkien. The seed to write was sown here and although these books are high fantasy, I could see so clearly, many similarities between their themes and the writings of the Christian Bible to which I had already been introduced. Once stirred up in my heart, there was no turning back… my own book at some time, was inevitable.
Who is your favourite author and why?
From the past, that would be Stephen Donaldson. His ability to draw a reader deep into an extravagant world of fantasy was highly effective and the images built up by his imaginative words were complete and believable.
However… today, my favourite author is Paul Ellis, because he writes about the grace of God and what the Bible does say, rather than what people often think it says or should say.
What is your favourite food?
I love all kinds of seafood, except little baby octopi looking up at me from my plate. Also, I enjoy eating boiled or baked fresh vegetables, such as pumpkin, carrots, parsnips, potatoes, onions, etc.
What do you like to do when you are not writing?
Landscape photography is an activity I find relaxing and rewarding. I like knowing that the click of my camera button captures a unique moment for myself and others to enjoy. The outdoors along the East Coast and hinterland of Australia keep me young(er) and in-between photoshoots I can keep on writing books.
Sometimes I write Christian songs from my heart, but I am not a musician and cannot even read music. Not to be discouraged though, I convince myself I know what sounds good and what doesn't, then press on believing the songs and lyrics are OK.
As a child, what did you want to do when you grew up?
I have no recollection of such thoughts, probably because I didn't believe I was ever going to be afforded the opportunity to grow up. However, I was always reaching out to people with encouragement and doing things for them. Thinking of this now, rather than a surveying/civil engineering profession, employment in the hospitality industry or as a social worker would have been more suitable.
What do you think makes a good story?
Whether fiction or non-fiction, I think any story should, to some degree, provoke or stir up questions or meaningful comment in the mind of a reader. I do not think entertainment alone is sufficient to warrant a tag of "good story". People are happily entertained for a time, me included… that's fun; sadness; triumph of good over evil and all the stuff of feelings and emotions, but we also need lasting security. If the content of a book moves us on to a higher search for truth and a belief system based on faith, hope, love, and other commendable qualities, then I personally count that as a "good story".
7. What was one of the most surprising things you learned from writing your book?
…just how much I did not know and how excellent it was to learn so many new things. As I researched and read other reference material, much more objectiveness came into play. Proofs and explanations… understanding of things, not connected with just my own thoughts. These served to verify Scripture even more, rather than weaken the things that God has said.
When did you realise you wanted to be a writer?
I was a writer from seven onwards. Many family members and others received my letters, but when did I realised I wanted to be a writer… well that took another 53 yrs of wandering in the desert. What a waste! At 60yrs I looked more deeply into my life and knew I had much to give, so I started with the first word and progressed on from there.
How long does it take you write a book?
This really depends on the book… how much research and formatting is required and any extraneous circumstances, which may influence the completion of the book. Normally I do not work to a time frame, preferring the manuscript to be completed when it is ready and of course, initially I need a cause or subject matter which I see is worthy. One year is typical for previous books I have written, but due to Covid-19 delays and distractions, two years has elapsed from start to finish of my latest book, "In Spirit and in Truth".
Can you share with us what your next book will be about?
I have two book writing projects underway. The first is "Christian Worship Songbook II" for which I have two new songs almost complete and the second is "Nations in Conflict" or something similar… I tend to change title names several times during the book writing process. "Nations in Conflict" hopefully will impact the World and change global thinking to align with Faith, Hope & Love.
Hope you enjoyed learning more about James A Mullier.
Would like to be on our list of authors? Become a member today and reap the benefits of being a part of the Author Academy Bookstore!
For more information, please click here.