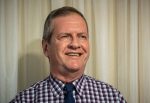 ---
James lives in Sydney, Australia with his wife Kerrie. He has three daughters and four grandchildren. He has been retired from fulltime work for three years. His former occupation was Civil Engineering Designer and now, besides authoring books, he is an avid photographer and occasional song writer.
Over the last ten years James has developed his Christian writing style based on diligent research and study of Scripture. "In Spirit and in Truth" is James' seventh book of which, all are centred on God's Word of Truth.
After seeing Truth diminish in Christian churches and the World alike, this book was written to assist in the identification of trustworthy knowledge, wisdom and understanding. "In Spirit and in Truth" is a reminder of the unchanging utterances of God, clearly stated in original Scripture for all to freely receive.
---
Hope you enjoyed learning more about our author of the month!
Would like to be on our list of authors? Become a member today and reap the benefits of being a part of the Author Academy Bookstore!
For more information, please click here.