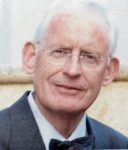 ---
Born in England to Scottish parents. Vivid memories of life in war torn England. Graduated as doctor at Leeds and emigrated to Australia in 1969with wife and three small children.
---
Books by Dr David Barkhouse
---
Memoirs of a British trained doctor's professional life, much of it in rural Western Australia'
---
Hope you enjoyed learning more about our author of the month!
Would like to be on our list of authors? Become a member today and reap the benefits of being a part of the Author Academy Bookstore!
For more information, please click here.