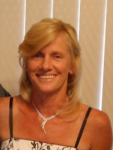 ---
Sandee was born in New Zealand and grew up in a small horticultural village consisting predominately of orchards and vineyards. The village was surrounded by native forests and situated on the Pacific Ocean coastline. From bushland, fresh water streams, forests, to sand and surf her 'backyard' provided enormous scope for fun and adventures. Years later when tragedy struck Sandee opted for a new life with a new beginning and so immigrated to Australia with her young family to procure some sort of semblance of peace and security. After spending many years travelling and living in outback Australia she choose the South West region of Western Australia to retire in. She dabbles in art work, loves to go bushwalking, boating and a fishing rod is never from her hand.
Whispers Behind Closed Doors
---
How do you go when the fabric of your life is torn and your life hangs in the balance? Sandee Parlor shares with you her quest to find the courage and strength to move forward, to find forgiveness, seek love and bring peace to a broken heart. Desperate to have a life free of shame, guilt and blame Sandee immigrates to Australia with her young family for the fresh new beginning she believes she can acquire there. She has an adventurous spirit and from an early age she learnt how to hunt; how to shoot a gun and how to live off the land and these three components bode well for her throughout her journey. Come with her as she travels into the isolated wild Australian outback. You might want to pack a box of tissues.
---
Hope you enjoyed learning more about our author of the month!
Would like to be on our list of authors? Become a member today and reap the benefits of being a part of the Author Academy Bookstore!
For more information, please click here.