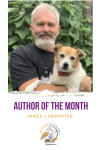 ---
James L Dempster grew up in leafy harbour side Clifton Gardens, a short walk to Sydney's Taronga Zoo, where he spent many happy boyhood hours, as well as exploring the nearby Sydney Harbour National Park bushland and foreshore. He has worked in the cinema and video industries, is a screenwriter and also an artist, having entered the Archibald several times. For the past two decades he has been in various aspects of animal welfare. He lives in semi-rural New South Wales with his rescue animals. Stripes in the Shadows is his first novel and has a new children's storybook Spitfire the Dragon coming soon.
As a young boy Leo Thomas had his photograph taken at the Zoo beside the last Tasmanian tiger in captivity – it dies on his 6th birthday and this tragedy inspires him to become one of Australia's most renowned naturalists, vowing this appalling fate should never happen to another species. In 2010 he turns 80, is now retired, an active recluse tending his wildlife rescue clinic on the edge of a pristine forest in Tasmania's south west. His serene corner of the world is threatened when a prominent commercial lumber company sponsors a not-so-independent study to prove this forest should be logged. Leo goes on the offensive being the prominent almost single local voice opposing this project in the small community. At this inconvenient time for Leo, his estranged grandchildren arrive from Sydney for a re-connect visit. They struggle to relate and get to know each other under the same roof and among inhabitants of the town. To help save the forest, Leo commences a surreptitious campaign of sabotage to hinder the timber industry study which quickly delays the corporate titan's schedule. When he sends in his thugs to deal Leo a lethal blow, events take a very unexpected turn...
'I was in the moment of the story on every page - a wonderful fictional tale full of wildlife encounters that should have been real history!'
Brad Walker - CEO Global Wildlife Training - www.globalwildlifetraining.com.au
'This is a very powerful story. Each page had me wanting more. I honestly thought it was a true story. A very well written book…highly recommended'
Sue Kennedy – CEO Sue Kennedy Publishing & Author Academy – www.authoracademy.com.au
---
Hope you enjoyed learning more about our author of the month!
Would like to be on our list of authors? Become a member today and reap the benefits of being a part of the Author Academy Bookstore!
For more information, please click here.